McKibben Urges Obama to Ramp up U.S. Climate Promises
Originally Published by the Detroit Free Press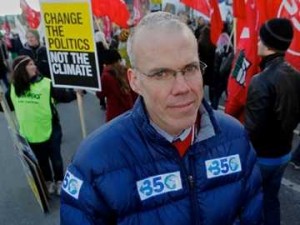 COPENHAGEN — While hundreds of thousands of people were out marching against climate change this past weekend, world leaders inside the Bella Center slyly removed the most important number in the world from climate negotiating texts — one that more than 100 nations had already agreed to.
350.org is an NGO that began in 2007 with just seven students from Middlebury College and Bill McKibben, author of the first book on global warming for a non-scientific audience—back in 1989.
The international organization — which McKibben prefers to call a "global campaign" — has grown over the past year to more than 100,000 "unofficial" members, each carrying a simple message through pictures: 350. (Click here to check out photos from more than 1,500 climate demonstrations held on October 24, 2009, as well as the 3,500 that occurred this past weekend.)
"We asked people to take a number, without any emotional meaning, and fill it with emotional resonance — their dreams, their passions, their nightmares — and people figured out how to do that," McKibben told the audience at the Klimaforum09 venue.
From scubadiving along coral reefs in the South Pacific to the top of mountains in New Zealand, a mosque in Iraq to deep within the Congo—these photos display the creativity of people around the world.
"When people say environmentalism is something only for rich, white people — that is a lie," McKibben spoke of the thousands of photos they received.
"It is people who live closest to the affected places that understand most."
McKibben led the audience in chanting "Three, five, oh" on three separate occasions.
"If you don't have that number firmly in your head by this point, there is something seriously wrong," he laughed.
McKibben informed the audience that currently the atmospheric concentration of carbon dioxide is 390 parts per million. Long before the industrial revolution, the concentration was around 280 ppm at the dawn of human civilization.
In January 2008, the American climatologist Dr. James E. Hanson published a scientific paper in which the first paragraph was very clear: any value of CO2 greater than 350ppm would create a world that was not the same as the one in which human civilization began and similar to which life on earth is adaptable. We now had our red line, the threshold of sustaining life on earth.
We had crossed that threshold sometime very recently, thus explaining why one third of the Arctic glacier ice melted in 2007.
McKibben was slated to speak for two hours in the afternoon at the Klimaforum09 venue, along with special guest President Mohamed Nasheed of the Maldives. When the president was almost an hour late (held up in traffic from the Bella Center negotiations, I'm sure), McKibben didn't miss a beat.
After showing hundreds of pictures of demonstrations in support of the 350ppm carbon limit from around the world, McKibben called on world leaders to listen to the cry of the masses.
"As people were mounting vigils and bells were ringing in the real world, 350 disappeared from the climate negotiations," he explained.
Inside the Bella Center there is no scientific debate — no new scientific finding — the number is still 350 for survival, but because it will be a difficult target to hit, it was removed from the climate negotiations.
It would "require the laser light focus of all our governments that usually they only use when they're about to go to war. When they go to war, there is never lack of money and commitment."
Furthermore, he argued, we are at war and our opponents are the sciences of chemistry and physics.
But this is not a war of negotiations and compromise — chemistry and physics don't negotiate.
"They tell you their bottom line flat out: 350.
That will not change.
The United States has agreed to cutting emissions by 4% of the 2001 levels, but McKibben says this just isn't enough. He said that every day MIT plugs in the numbers of what each country has committed to a computer software program that then spits out the total carbon that will be in the atmosphere in the year 2100: on Sunday, that number was 770ppm.
"Obama may give the most beautiful speech next week, but they [chemistry and physics] will not be swayed by his oratory, but they may be swayed by his action.
If he arrived and said, I've listened to the scientists and I've understood what they are saying, and he cut emissions by 40% instead of 4%, then the world would have a fighting chance."
McKibben was not optimistic in this hope, however, he urges followers to keep fighting and to keep spreading the message of 350 past the end of the UN climate summit this week.
"Obama's not going to say that this week and we wont get the treaty we need this week, but we'll be closer than we were — it's going to have to be, because we don't have any other choice."