Frankfort Varsity Football 2017: Team Photo with Mothers
The Frankfort Panthers take a moment out of their season to celebrate Mom.
Remember around this time last year, when I wrote a blog post about what life in a small, football-crazy town is like, and I shared some photos of the Frankfort Panthers homecoming football game…?
Well, let's call this post an update to that — a few weeks ago, I was asked to mimic something that the Frankfort Panthers Football mothers had found on Facebook, seen below. (I apologize that I can't find the photographer's name to give credit; this is the problem when things get shared on Facebook without proper attribution!!! But that's a tangent for another blog post. All I know from a Google search is that Vilonia is in Arkansas. UPDATE: The original is from Kimberly Jean Photography out of Morrilton, Arkansas, and she posted it on September 25, 2017, after which, it got tens of thousands of likes, comments, and shares on Facebook.)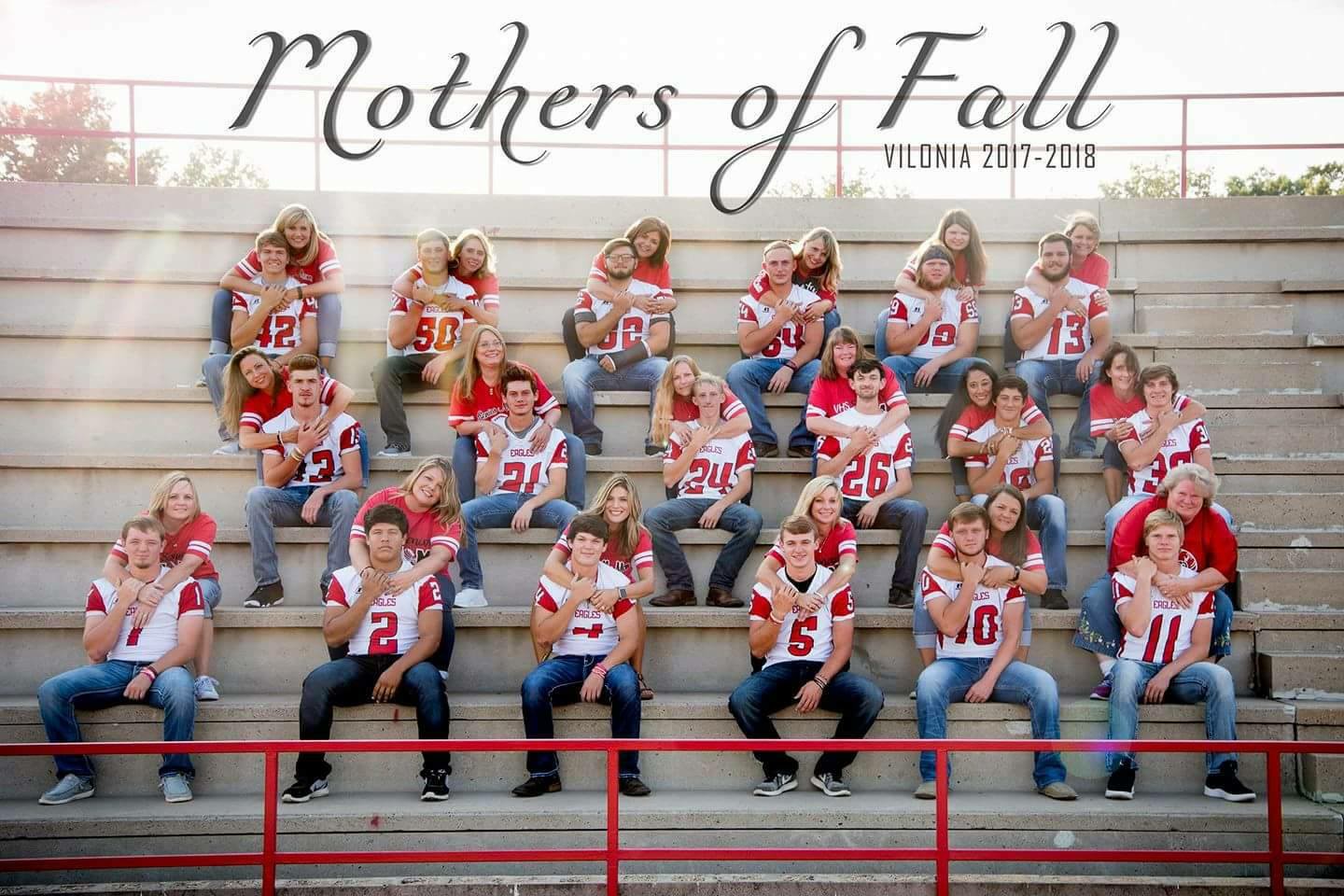 Originally, a few Frankfort High School moms with nice DSLR cameras were going to attempt to take the photo, but somewhere along the Facebook comment thread, someone suggested hiring a professional, and my name popped up.
This was fun and relatively easy for me to shoot, because the moms did the majority of the work: they coordinated schedules to find a time when every varsity football player and his mother (except for four player-mom pairs) could make it; they told everyone what to bring (both home and away football jerseys, plus a pair of jeans). Although, on that last note — this photo was taken at Lockhart Field around 6:30pm on Sunday, October 1 (with sunset at 7:25pm), hence the rich, warm, beautiful lighting. And though the moms tried to get the boys to wash their jerseys after Friday night's game, many of the boys forgot, and thus their mothers ended up wearing their dirty, stinky, grass- and blood-stained jerseys in this photo. (A detail that you can't really see in the picture, thank goodness.)
Seriously though, here's to the "mothers of fall": "the women who stand behind these young men, who cheer during victories, console in defeat, listen to frustration, and provide a soft voice of reason. Women who prepare meals, clean jerseys, drive in caravans, and plan their Friday nights based on where the boys are playing. I hope these gentlemen know how lucky they are," to quote the Frankfort High School P.E. teacher, Jaime Stenz Smith.
The first photo below is of the entire varsity team, and the second image is the seniors-only photo.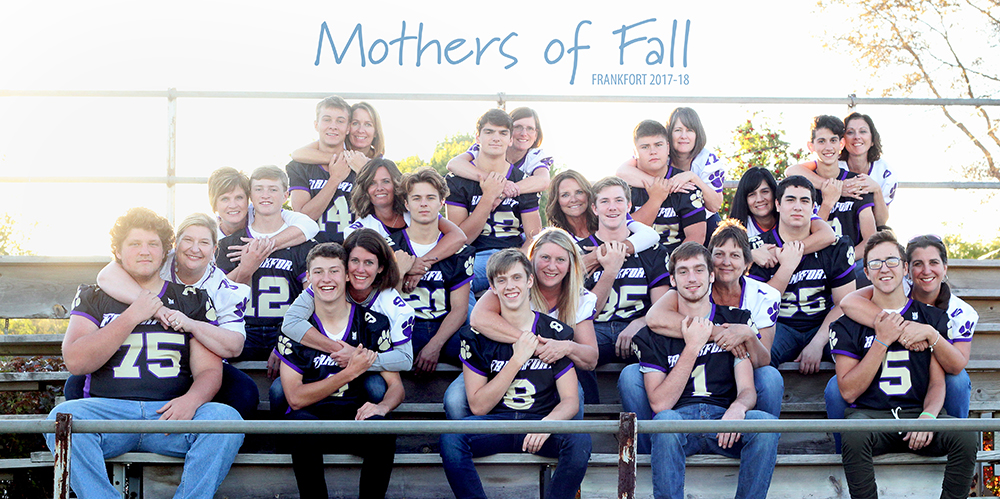 From the feedback that I've received so far, the moms are in love with this photo, and the boys think that it's "pretty cool," too. (The moms are already planning this photo shoot again next year!)
What do you think? How did I do with recreating this photo? Let me know in the comments below.
–Aubrey
—————————————————————–
List of Varsity players and their mothers:
#1: Matt Loney, senior (class of 2018); Kate Loney
#2: Conner Smith, senior (class of 2018); Joanne Schultz Bartley
#3: Ben Plumstead, senior (class of 2018); Amy Plumstead
#5: Kirk Myers, senior (class of 2018); Renee Faraci Myers
#7: Brandon Johnson, (class of 201), Stacey Milarch-Johnson
#8: Ezra Beehler, senior (class of 2018); Terri Beehler
#9: Coleman Schindler, senior (class of 2018); Amy King Schindler
#12: Austin Oberski, senior (class of 2018); Amy Niemiec Oberski
#14: Adam Witkop, senior (class of 2018); Pam Witkop
#21: Michael Farmer, senior (class of 2018); Stacie Farmer
#24: Kyle, (class of 201); Erica Lee Plesha
#35: Mack Powell, senior (class of 2018); Barb Powell
#52: , senior (class of 2018); Arah Johnson
#55: Thomas Cypert, junior (class of 2019); Kelly Kay Maxey
#50: Trevor Crawford, junior (class of 2019); Julie Bankston
#65: Andrew Manning, senior (class of 2018); Trish Denune
#70: Brian Walters, junior (class of 2019); Jill Osborne.
#75: Matt Stefanski, senior (class of 2018) Julie Stefanski
#: Stockdale, (class of 201), Aimee Stockdale
Not pictured: #4 Griffin Kelly, senior (class of 2018); Adam Bower; Ethan Ness; Felipe Gomez.